23rd Arabian Gulf Cup tournament to start friday at Jaber International Stadium
---
Kuwait: The Jaber International Stadium will be the grand venue for the prestigious Gulf 23 Football Tournament scheduled between December 22 and January 5.
The stadium has a maximum capacity of over 60,000 spectators. The Gulf 23 tournament will see Kuwait, Saudi Arabia, Qatar, Oman, Iraq, Yemen, Bahrain, and the UAE all competing for the title.
All security measures are completed in preparation for the Gulf 23 Football Tournament, said the Interior Ministry Tuesday.
Director of Public Relations Brigadier General Adel Al-Hashash said that the Ministry was ready to secure the tournament, which will be held between December 22 until January 5.
The Ministry's highest authority called for paying attention to security during the course of the tournament, said the official who called on spectators to abide by rules and regulations concerning fireworks and other hazardous materials.
Map of Jaber International Stadium's gates. Source: Ministry of Interior, Kuwait
The gates of the Jaber International Stadium will be opened next Friday at 1:00 p.m. local-time to receive legions of fans and football enthusiasts.
Medical preparations for the Gulf 23 Football Tournament are completed, said Minister of Health Dr. Basel Al-Sabah Tuesday.
In a press release, the minister revealed that two aircrafts, seven field clinics, and various kinds of vehicles were prepared for any emergency at Jaber International Stadium.
Gulf 23 Football Tournament Schedule (Arabic):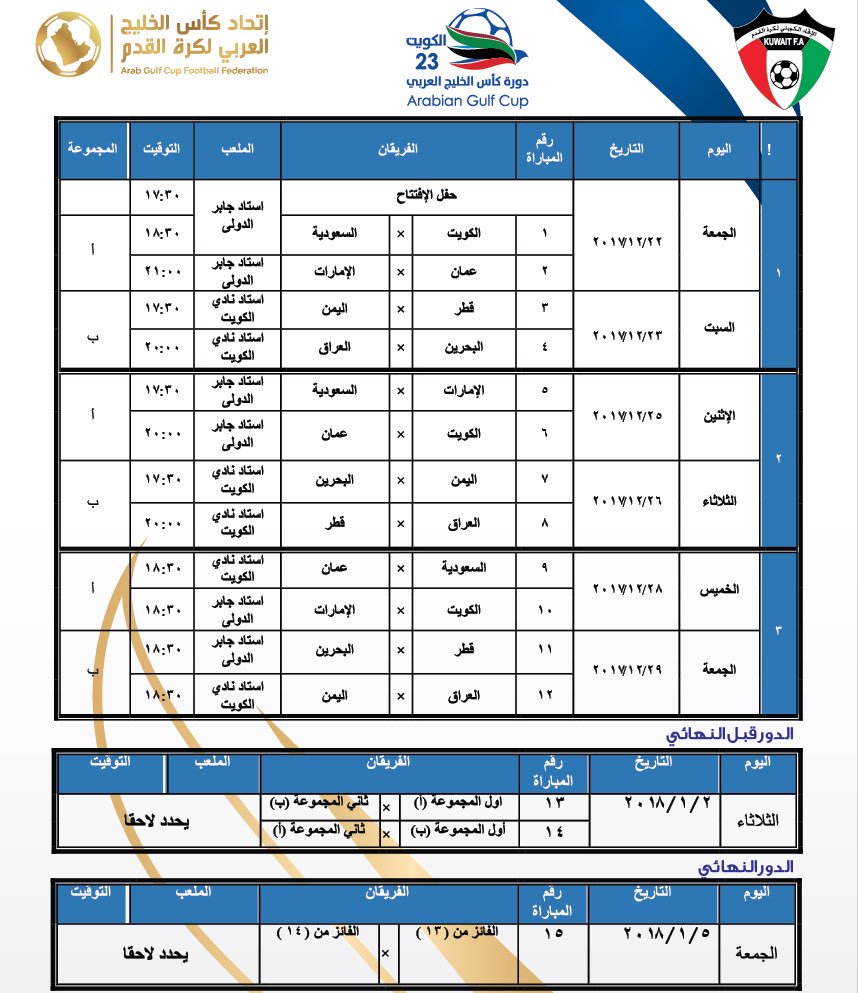 Image Source: Kuwait Football Association, Twitter page. [Link]
- KUNA
---